The beautiful wall of the house is everyone's dream. And many people think that charming wall of the house can only be realized with a lot of money. And not just so. With a little creativity, a unique and quirky house can be real with just enough capital.
In addition to relying on a beautiful homemade property. The color and pattern of a unique wall paint can also apply to your home more quirky. No need to hire an interior designer space, a unique wall you can realize by painting this one. Check it out fine yes.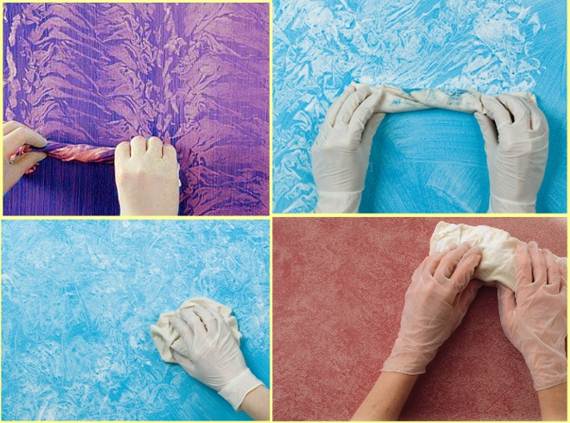 Make a pattern of lines with a palm fiber broom
In the past, the walls of a beautiful and patterned house can only be contrived by a reliable interior designer. But now you can make your own in an easy way. Only with a broom of fibers, a wall with a pattern of lines can be displayed. The trick first paints it with a favorite color paint. While still wet, stretch the palm broom and gently pull. In this way, the pattern of beautiful lines like the artificial experts you can make.
An abstract patterned house wall with a rolled cloth
Do you like artistic things? Just make an eccentric wall. Simply use a cheap Kanebo cloth, you can make beautiful artwork at home. How easy it is, first paint the house with favorite color. Then use a different paint color and apply on the house with a cloth roll instead of a brush. Works of art can fill the house!
Porous sponge using Sponge
The desire for a dream house worth fighting for. The unique ways and genius you can follow to be more efficient, one of which is to paint the wall using a sponge. You can use a dishwashing sponge or a sponge to bathe. Simply by applying a wall paint on the surface of the sponge and stick it. It's easy, right? Dream house can look unique and different from others.
Paste it on the wall and coat it with paint
Even though you do not have artist's blood, you also have the right to make beautiful works. One of them is a beautiful pattern on the wall of the house. Just make a pattern on the wall and stick the tape on it. After that, paint the entire surface of the wall with the favorite colored paint. Then remove the tape and trim the edge of the pattern with a smaller brush. With an instant, artist-style artwork can be displayed on the walls of the house. Do you dare to try?