Perhaps many of us want a large kitchen for our home, but many of us have to settle for just a small kitchen. Actually for whatever your kitchen, the items inside are the same as a small kitchen. We want this room that works well to prepare and cook food. Maybe we also want it to be a comfortable place to eat even just for breakfast. We also need plenty of room for various kitchen utensils and groceries. With the right planning and design, you can get the various functions in it.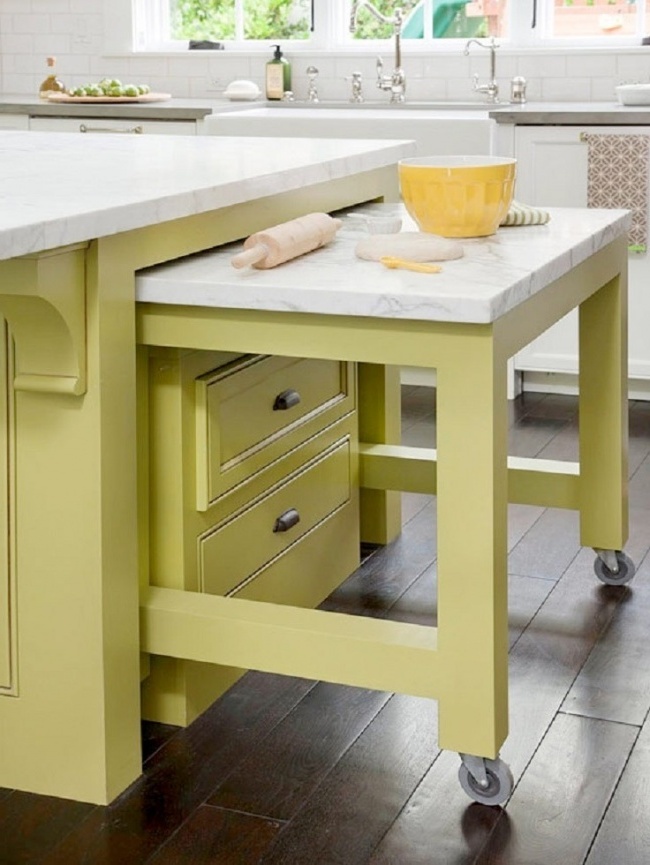 Use every available angle
If you have a small kitchen, it is important to take advantage of every corner of it. For example by using custom furniture. Specially designed shelves or cabinets allow you to maximize every angle. The small room also makes the necessary furniture not too much so the budget you need remains economical.
Use unique shelves and hangers
Putting a large wardrobe on your kitchen wall can take up a lot of space in it. However, you can still take advantage of your kitchen wall by adding long racks, hangers, and closets. This shelf you can use to hang pots, cups, and cup to put a knife or other equipment. The use of blackboards on the wall can also help you to write various shopping lists or other notes.
Use efficient furniture
Furniture with excessive design and does not fit the room will make a small kitchen look fuller. Conversely, the use of furniture with a simple and minimalist design can make your kitchen look more spacious and provide maximum lighting.
Create a special place for your washing machine
Probably not something common to put your washing machine in the kitchen. However, if you do not have much space in your house, maybe you can use this alternative. The small space under the stairs can be a great place to put your washing machine. Consider also putting your clothes dryer and refrigerator in the garage to take advantage of the existing place.
Choose details carefully
There are many choices of room details that you can add to your new kitchen. You can start by adding a spice container, a knife drawer, or even a cutter table of cooking ingredients that can be put in a cupboard.
Use multifunctional furniture
Multifunctional furniture can be the right choice for your small kitchen. Long cabinets with oven, dishwasher, and stove on top can be a selection of elegant furniture.
Elevate the roof of your kitchen
A little renovation can change the atmosphere of your small kitchen. If your house has only one floor, maybe elevating the roof you can add lighting and air. High roof with additional windows also makes the sunlight from outside the entrance with more leverage than the vertical window. The high roof will also make it wall becomes higher and can be utilized by putting a closet that can reach the ceiling of your kitchen.…